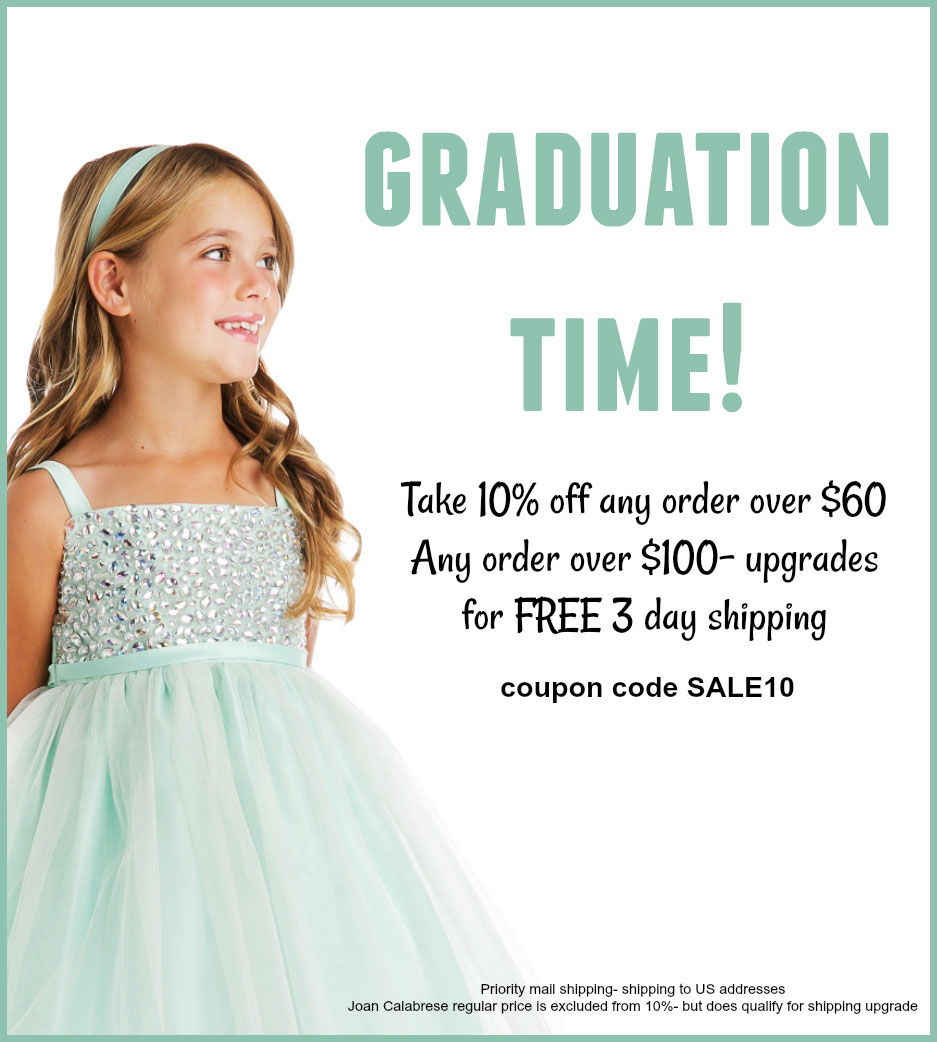 Happy "Almost Summer" Everyone….the final countdown to graduation and summer break!

We all know what an important and exciting day this is life of your childs. The weeks leading up to graduation can be complete craziness and finding the perfect outfit for that day can be the last thing on your mind. This is your reminder email!
We are offering:
10% off any order over $60.00
Free ground shipping on orders over $28.99
AND this weekend- FREE automatic upgrade to 3 day priority mail shipping to US addresses- you will have your outfit before the end of this week!


We have great suits for boys, cute ties, bowties and even vest sets to dapper out your boy.
For girls, we have some super cool casual dresses all the way up to star studded blinged out ones perfect for graduation and family events.

Take a look and get them super fast with a discount this weekend! PLUS- we marked down over 100- yes 100 items in our SALE section as low as 20.00!!

Find some incredible deals on items there including Communion items for any of you needing something pretty, fast and at an incredible price!

Don't wait until the last minute trying to find something "not so special" at the mall.
Shop now and get it fast!

---

Save $10 on orders over $60 - Coupon code: SALE10
Expires: 05/25/2018 Midnight Pacific (9:00 pm Eastern)


Coupons cannot be combined- so use whatever is the greater savings to your order.
This coupon cannot be applied to any Joan Calabrese or Maci Designs dresses or applied to any prior purchases.

NOTE to INTERNATIONAL clients who are buying our closeouts and shipping OUTSIDE the US- our set shipping prices on our site are for boxes holding up to 10 items. If you purchase more than this in clearance items, we may contact you to collect the difference on the shipping due to weight if the box goes over the shipping collected.