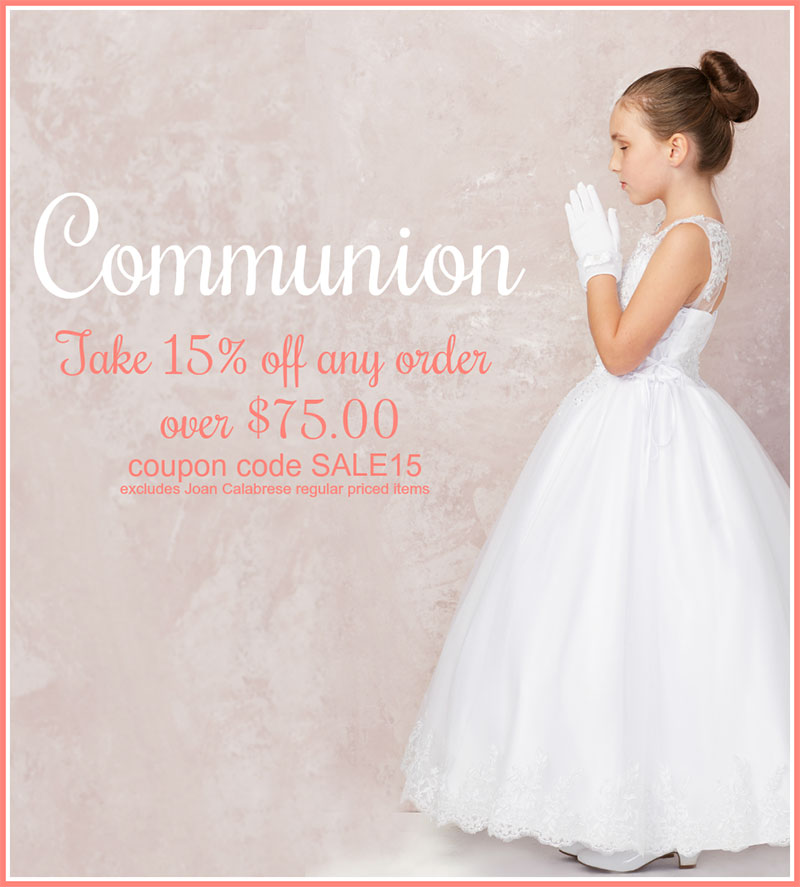 CURRENT PROMOTIONS
New Communion Arrivals are here and shipping Fast!
We have thousands of gorgeous Dresses and Headpieces, hundreds of Boys Suits, Candles, Bibles, Rosaries, Gloves, Socks, Shoes, Ties and everything imaginable to make your childs Communion perfect.
See All Communion
See All New Arrivals
See All Sale Items

Take 15% off any order of $75 or more - Coupon code: SALE15
Expires: 03/29/2019 Midnight Pacific (9:00 pm Eastern)

Coupons cannot be combined- so use whatever is the greater savings to your order.
This coupon cannot be applied to any Joan Calabrese or Maci Designs dresses or applied to any prior purchases.

NOTE to INTERNATIONAL clients who are buying our closeouts and shipping OUTSIDE the US- our set shipping prices on our site are for boxes holding up to 10 items. If you purchase more than this in clearance items, we may contact you to collect the difference on the shipping due to weight if the box goes over the shipping collected.