Ring Bearer Pillows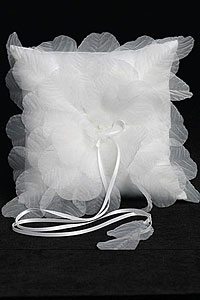 Who can forget the little sweet child who carries the most precocious gift a couple exchanges during a wedding ceremony carefully down the aisle? It's an unforgettable moment that will forever be captured in photographs and the guests' memory. Especially if the child is wearing one of our beautiful flower girl dresses, handsome tuxedos or boys suits made just for your special ring bearer.
At Flower Girl Dress For Less, we carry different sizes and shapes of ring bearer pillows that will match your wedding theme and style. From beautiful satin heart pillows to delicate soft rose petal ring bearer pillows. All our pillows have delicate embroidered details. Some of our ring bearer pillows have very fine embroidered detailing with hand beaded pearl accents that are just beautiful. The middle of the pillows are adorned with a simple satin ribbon bow and some have organza flowers in the center. No detail is spared on our quality ring bearer pillows. Choose from our unique styles to fit your wedding theme. Bridal quality ring pillows are available in white or ivory.
Don't forget to look at our extensive collection of beautiful flower girl dresses or handsome tuxedos and boys suits for your special ring bearer.
Thousands of dresses in stock for immediate shipment at everyday discount prices. Why pay more? Visit our online store for the complete line of Ring Bearer Pillows.