Remember the good old days when your kids actually listened to you and didn't talk back? If you are a parent, you most likely rarely had such days ever since your children developed speaking skills. One battle that most parents never win is the jacket argument. As temperatures start to dip, we like to bundle our children up to prepare them for the elements – but no child likes to wear a jacket, ever! As far as I can remember, every winter as my family hurries out the door, I am heard saying "wear a jacket".  Oh, let's be honest.  It's more like "WEAR A JACKET"!  It is met with moans, groans, and things like, Well, I'm not wearing it, it won't fit in my locker, I don't need a coat, and I don't know where it is!
As parents we can all agree if there is one thing that is hard to predict, it is the weather. Most kids love spending time outside, whether it's raining or snowing. Sending a child out in the morning, whether to school or on a weekend, jackets can make the difference between a warm, happy child and a wet miserable child. However, it is important that the child like the jacket or it may end up disappearing into the bottom of the backpack. I usually win the coat argument because I'm a tough mom and I don't give in that easily.  But there must be an easier way to get your kids to want to wear their jackets this winter.
One method that's worked with my kids is buying them stylish jackets that look good and keep them warm. Unless there is a blizzard outside, it's not necessary to push a puffy or heavy jacket on your kids.
Nowadays there are many different styles and options to choose from when it comes to winter coats. Most large superstores seem to carry the same styles that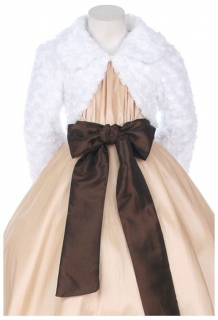 are bulky and not popular with kids. I did some research online and came across a store that offers free shipping and raving reviews. The site is called FlowerGirlDressForLess.com. I bought a super cute white, fluffy bolero jacket that my daughter is obsessed with. She's worn it over dresses and at special events and even with a pair of cute jeans which looks really hip and chic. She's gotten so many compliments from her friends and wears it all the time. I also purchased a beautiful twill coat with metallic threading that reminds me of designer jackets like Chanel and St. John. According to my daughter, she loves the coat because it's warm and cozy on really cold days. What I love is that it's versatile and can be dressed up or worn casually. She wore it to school and she also wore it to the father daughter dance which was dressy. We got a lot of use from both jackets. I also love that both jackets are well made from durable fabric that will last and she can wear next winter as well.
The outdoors in winter is enjoyed most when you are dressed properly. It is also safer when you are dressed properly. Remember: there is no bad weather, just bad clothing. This winter, stay warm and dry and win the jacket argument by choosing stylish coats that your kids actually want to wear.