With November approaching, the holiday season is fast upon us and stylish girls' holiday dresses are a must-have for festive celebrations. In addition to taking great holiday photos, the right holiday dress can help girls look their best and make their parents proud. Girls often wear special dresses for Christmas, Easter, and other important days throughout the year. Here is some background on holiday dresses. Girls' holiday dresses are typically much fancier and more formal than the average dress. Some girls' holiday dress styles remain popular year after year. Rich fabrics like satin and taffeta are often used. Fine details and bold colors are both common to holiday dresses. Many holiday dresses are tea length, meaning the skirt falls near the bottom of the calf. Others have full skirts that come all the way to the ankle. A-line skirts, empire waists, and wide sashes are always en vogue. Pleats and ruffles are frequently seen, as are embellishments like bows and flowers. Some buyers opt for traditional smock dresses or bishop dresses with exquisite holiday-themed embroidery. Before purchasing, remember to consider traditional style elements that remain popular year after year, but the ultimate key to success is finding a cute dress that fits the child comfortably.
Buying holiday outfits is not always as fun as it sounds, kids can be picky and fancy outfits are generally expensive. With such a wide range of options available in stores and online, some shoppers aren't sure where to start. This summer, I was referred by a friend to an online business that sells designer girls dresses for much less than department stores and boutiques. I looked up their credentials and found positive reviews and comments about their company so I felt safe shopping from them. Their website is called FlowerGirlDressForLess.com.  I purchased a beautiful flower girl dress that my daughter wore to many events including my cousin's destination wedding. Not too much later, I got an email about their beautiful holiday dresses and decided to purchase our holiday dresses from them as well. They offer so many styles and selections of beautiful designer holiday dresses at lower prices than what you would pay at a department store. They even have a section where you can design your own dress by picking out colorful sashes or rose pedals.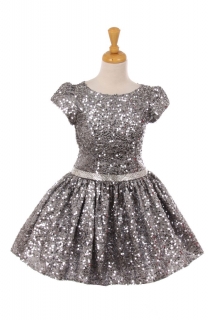 It didn't take me long to find a unique sparkly dress that will look great in our holiday photos. The dress has beautiful sequins throughout. It comes with a stunning rhinestone belt that makes the dress pop and stands out. I especially love the high-end quality of the fabric that I will hold on to for my younger daughter. It is nothing like the cheap stuff they sell at some department stores.  I also bought a cute furry bolero cape, tights and matching shoes for the dress which was super easy and convenient. I don't have to look for accessories all over the place. Everything is conveniently available on their site. My daughter absolutely adores the dress and she cannot wait to wear it to my annual office holiday party and our upcoming holiday family postcard photos.
The days of spending hours at the mall looking for an overpriced holiday dress are over. I got an amazing holiday dress for much less than I expected. Why pay more when there are retailers like flowergirldressforless.com out there?  Stretch your dollar this holiday season and check them out.