Pageant Dresses for Girls – 2018 Styles
Whether you're a veteran beauty pageant participant or new to the process, entering a pageant can be an exciting and nerve wrecking decision for both the teen and the parent. It takes many hours of preparation to get ready for a beauty pageant. There are a lot of details to consider and factors that influence the judges' final decision. From getting your confidence to answer the important questions or to picking the perfect pageant dress for girls can both influence the final outcome of the competition. Remember, before entering any competition; make sure you know the rules!
The formal dress part of the pageant can influence the judges' final scores
One major section of the kid or teen pageant competition is the formal dress part. The perfect pageant dress with the right accessories is a critical part of the pageant competition. The judges take the formal dress part of the pageant competition very seriously and it can weigh heavily on the final scores. It is important to take into consideration which style of pageant dresses for girls will work best for you and ensure you stand out in the competition. Before choosing the dress, ask questions and find out the guidelines regarding the dress hemlines and other details. This is especially important to ensure you don't waste your money. The judges usually have a copy of the pageant guidelines and will be looking closely to see if they were followed. Generally, a ball gown with an even hem not more than one inch off the floor is a good choice.
During the formal dress part of the competition, each contestant will present herself in an evening gown of her choosing. One of the most important tips to remember is to find a dress that your daughter loves! If she feels good in her gown, she will have more confidence on stage! The sparkle in her eyes will shine through and influence her stage presence.
Generally, the Jr. Teen and Teen pageant contestants wear gowns that are similar to homecoming or prom dresses. The Junior Pre-teen (Ages 7-9), Pre-teen (Ages 10-12), Junior Teen (Ages 13-15) and Teen (Ages 16-20) contestants may wear a full-length gown or even a party dress. During the formal wear competition, each teen pageant contestant will complete a modeling routine that they have learned previously at rehearsal and training class. The Emcee will also present each contestant center stage and ask each their division's main question that was presented to them earlier that day at rehearsal. Once again, the contestants will have the opportunity to express their unique personality on stage.
Many gorgeous pageant dresses for girls are now available online
The good news is that the latest styles for formal pageant dresses are now available online! The days are being limited to a couple of formal dress boutiques at your local mall are over. There are now thousands of pageant dresses online with hundreds of colors, lengths, sizes, and styles to choose from. Before choosing a pageant dress, make sure you take skin color and hair color into consideration. You want to choose a dress that compliments/enhances your natural features. We know it can be difficult searching through thousands of dresses online so took the time to find the most popular pageant dresses and present them to you in this article: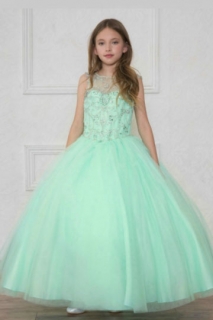 This sleeveless dress will make your pageant participant feel confident and unique. When it comes to choosing the perfect pageant dress, think color! This beautiful mint color truly pops and will make you stand out to the judges.  It comes in pink, yellow and white as well. The fabric is stunning with exquisite rhinestone detailing on the bodice. The cascading layers of tulle give this style lot of fullness or if you really want to stand out, you can add additional netting underneath. The rhinestone detailing on the bodice is simply magnificent. This is a high-quality designer dress so it can be used for other occasions for many years to come.
This dress is classic and elegant and looks like you are going to a royal affair. The wine color is a popular high-end look that will never go out of style. This color is especially beautiful on brunettes. This designer dress has rhinestone detailing on the bodice and is simply magnificent and very popular in pageants. The same rhinestone detailing is featured on the unique open back so it will draw the judges' attention as you're walking on the stage. If you love the design but this color doesn't work for you, this dress comes in pink, white and royal blue.
What better way to stand out at your pageant than to wear a white tulle dress with sparkling rhinestones! This is one of those dresses where the "less is more concept" applies. This pageant dress would look beautiful on any girl because it's simple and elegant. It makes your natural beauty shine through. The color white has an angelic look and works well with any hair or skin color. You can't go wrong with this pageant dress for girls.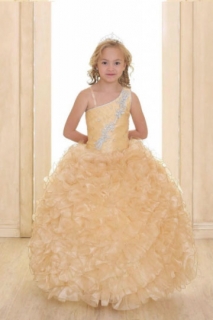 Watch the judges heads turn in amazement when your pageant enters the room in this stunning gold pageant gown. This organza dress is a one shoulder bodice richly decorated with beautiful large rhinestones and it really stands out! The gold color is especially beautiful for blondes or light brown hair. The full skirt features layer upon layer of beautiful bridal organza. This style is perfect for pageants because it truly has a presence about it and makes a strong statement.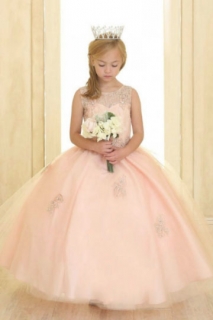 This blush pink sleeveless embroidered dress with beaded appliques is so elegant and classy, and a perfect pageant dress. The stunning design details will captivate the pageant judges. Blush pink is a beautiful dress color that will work well with any hair color. There are fine details on the bodice with an illusion neckline and beading on the waist. This elegant pageant dress makes is soft to the eyes but makes a strong statement. You can't go wrong with this elegant piece. The layers of wispy tulle on the skirt give the dress an ethereal feel that leaves a lasting impression.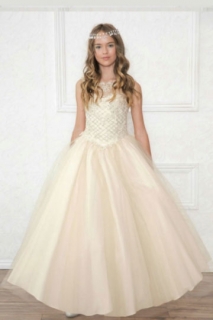 This is another pageant dress that really stands out because it's simply elegant and whimsical. The quality and workmanship on this dress are stunning. This is definitely a "less is more" kind of dress that will make the pageant participant stand out without overwhelming and taking away from her beauty. The subtle fine details of the bodice, illusion neckline, beading on the waist, and the layers of wispy tulle on the skirt give the dress an ethereal feel. The fine details continue to the back with corset styling details so it will capture the judges' attention during your pageant walk.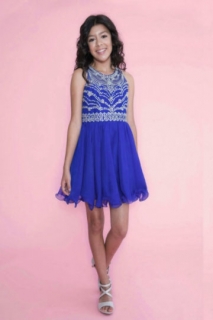 We love this stunning sleeveless chiffon dress because it's more spunky and fun. This is a fabulous glitz and glam style pageant dress that will be a show stopper! The bodice has dazzling rhinestones and the full skirt features layer upon layer of ruffled tulle. The tulle skirt will have more movement during your walk in front of the judges and will get their attention. The sheer rhinestone design in the back that gives the dress extra special flair.
This is another show stopper-bring on the glitz and glam pageant dress. Aqua chiffon is one of those dresses that will leave a lasting mark on the pageant judges. There are dazzling rhinestones on the top portion of the dress that sparkle. Again during the pageant walk, the movement of the full skirt features layer upon layer of ruffled tulle. This is a reasonably priced designer dress that you can wear to other occasions as well.
This dress is completely jaw-dropping gorgeous. The stunning design details will make your pageant participant captivate the hearts of the judges. This full-length designer dress has layers of wispy tulle on the skirt which gives the dress a soft and flowy feel that will make your pageant participant look angelic and beautiful. The back is absolutely stunning with corset styling details, so as your pageant participant is walking the stage, she will leave a lasting impression even from behind. This stunner also comes in blush and champing colors.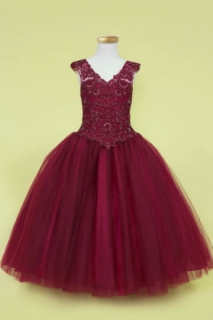 Burgundy is one of the hottest colors this season! This dress is a high end, designer pageant gown with gorgeous beading and details. The stunning design details and full skirt makes this dress really pop! The pageant participant will feel like a true princess in this dress. This color is universal and stunning on all skin colors. This is a full lengths dress.The layers of wispy tulle on the skirt will move beautifully as the pageant walks down the stage. If you are not interested in burgundy but love the design of this dress, it also comes in many other gorgeous colors.
Last but not least we highly recommend this cascading ruffled organza dress.  This dress is so royal and stunning that will make your pageant a royal affair. There is so much intricate beaded detailing on this dress that the price will stun you! The cascading layers of ruffled organza give these style lots of fullness for a more dramatic look. The dress is absolutely stunning with a corset back for a custom fit. Additional netting underneath adds to a fuller look. This full-length dress is made overseas in a bridal factory so the quality is beautiful and will last you for years to come.
Hair and makeup is extremely important
After you select the perfect dress, there are other important factors to take into consideration when entering a pageant. How you choose to do your makeup and hair is nearly as important as the pageant dress. Take your time and do your research and put a lot of thought and careful consideration into your hair and makeup. Choose a hairstyle that compliments the shape of your dress and body. For instance, some pageant dresses look great with a trendy up-do and others with romantic soft curls. Do your homework by searching images of successful contestants and fashion magazines. Talk to former contestants and/or stylists. Think hard about the character you want to portray on stage. Also, bring a picture of your dress to use for reference when getting your hair and makeup done.
It's best to get your hair and makeup done professionally to ensure it withstands the hot stage lights. Choose a professional that has experience working on pageants. Ask to see pictures and do a trial run before the pageant. In general, hair volume will go a long way on stage.
Before getting your makeup done, check the pageant rules and guidelines. Some pageants require a more natural look. Discuss this with the person who is doing your makeup. If the rules are not strict, smoky eyes and accented cheekbones really pop and will stand out well on stage. Wear a button-down or zipper front top during hair and makeup so you don't mess up the finished product when changing.
Last but not least practice, practice, practice
As we mentioned earlier, there are many factors that influence the judges' final verdict during the pageant.  Judges award points for each section like talent, speech and other criteria based on performance, but the most important criteria may be the walk. That's why it's imperative to practice your walk at home or on any stage to feel confident, graceful and prepared as you take the stage during your pageant. This way, you'll gain confidence and will not be intimidated or have self-doubt during the competition.
The rule of thumb is that your walk should have poise and balance without looking rigid. Your hands should be relaxed without swinging, and your smile should be natural and eyes on the judges.
The key to a successful pageant is preparation. I hope this article helps you along the way from picking the perfect pageant dress to walking down the stage with confidence. I know it's a lot to take in but one important thing to remember is to have fun and enjoy the journey!