What should the true focus of the First Holy Communion celebration be, and what are some important steps to consider when planning the celebration?
You've been waiting and planning for this day for years and now it's finally here…the special day of your daughter's First Holy Communion. This is such a holy and joyous occasion for your daughter and the entire family and a great celebration. Indeed the First Communion is one of the holiest and most important occasions in a Roman Catholic person's life. During this happy and holy occasion, it is believed that her soul will become the bride of Christ and that is why she will wear a white dress during the ceremony. Many families have formal professional photographs taken in addition to candid snapshots in order to commemorate the event. Some churches may arrange for a professional photographer after the ceremony to capture this important holy day.
The importance of the First Holy Communion
A child's first Communion is indeed a cause for celebration and should be beautiful and memorable, but the true focus of this holy and special day must remain the sacrament itself as the little ones are welcomed to the table of the Lord. The celebration reveals the belief in the true presence of Jesus in the Eucharist. This is the first time a person will eat the consecrated bread and drink the consecrated wine, which is believed to be the body and blood of the Savior, Jesus Christ. The importance of the First Holy Communion is not having the perfect celebration or dress but that the boy or girl preparing for this sacrament is going to be profoundly united with Jesus in a way that they never have before!
Choosing the Best First Communion Dress
You've labored to raise your little one in the Catholic faith, taught them everything you know including the true importance of this Holy day, and now they're taking their next big step preparing for the celebration.
Traditions of celebration surrounding First Communion usually include large family gatherings and parties to celebrate the event. One important aspect of this celebration includes the first communicant wearing special clothing. The clothing is often white to symbolize purity. Girls often wear fancy dresses and a veil attached to a chaplet of flowers or some other hair ornament. In some communities, girls commonly wear dresses passed down to them from sisters or mothers, or even simply their school uniforms plus the veil and/or wreath. Boys may wear a suit, or tuxedo, or their Sunday best, or national dress. In Scotland, boys traditionally wear a kilt for the ceremony. In many Latin America countries, boys wear a kind of military-style dress uniforms with fancy gold braid. In Switzerland, both boys and girls wear plain white robes with brown wooden crosses around their necks.
Another tradition during the First Communion ceremony is giving gifts of a religious nature, such as rosaries and prayer books, in addition to religious statues, icons, and holy cards. Monetary gifts are also common.
Another tradition during the First Communion ceremony is giving gifts of a religious nature, such as rosaries and prayer books, in addition to religious statues, icons, and holy cards. Monetary gifts are also common.
For girls, there are thousands of choices when it comes to buying the perfect Communion Dress, however, styles and quality varies. This is a very important occasion so you want to choose a high-quality dress that will mark the importance of such a sacred and holy day in your photos for many years to admire. Another special tradition is to hand down your dress to your younger sibling or family member. A well-made dress with high-quality fabric can be handed down and appreciated for many years.
The bad news is that you may have to spend hours/days in boutiques and department stores trying on numerous overpriced communion dresses. These places often have limited styles and sizes. The good news is that nowadays it's easier to do your research online to find thousands of First Communion dresses from different retailers. This way you can find the style and size you are looking for without leaving your house. However, sometimes too many choices can be confusing as well. That's why we took the time to research and selected the best priced, most popular designer styles of communion dresses for 2018 in this article.
Here are the latest styles, best quality, designer and affordable First Communion Dresses for 2018: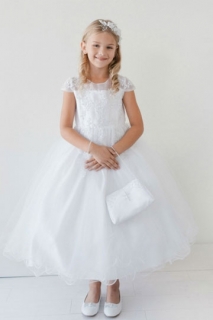 This designer communion dress is simply exquisite with the cap sleeves and a full tulle skirt. There are beautiful floral appliques perfectly designed and made of high-quality fabric. You can wear additional netting under the skirt if you want a fuller look. This dress is simple and yet makes an elegant statement. You can accentuate this dress with Holy Communion accessories like a bag, and floral headpieces or crystal tiaras. It goes all the way to size 14. You can't go wrong with this dress!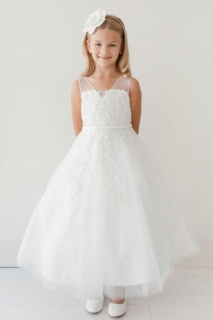 The first thing that comes to mind is chic when looking at this gorgeous high-end modern communion dress! This lovely dress is made from bridal satin and organza with gorgeous floral lace appliques that start on the bodice and cascade onto the skirt. Your daughter will look and feel like an angel walking and stepping through her First Communion. This dress looks fabulous with a floral headpiece and comes in many sizes.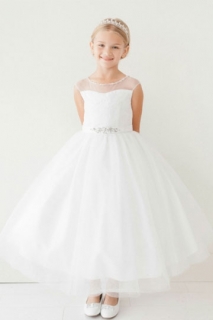 If your daughter is more into a glamorous sparkly style than this is the right dress for you. This communion dress is all about little details. It has a sheer organza illusion neckline with gorgeous beading trim and a matching sparkly sash. The full tulle skirt will make your daughter feel like royalty as she walks downs to receive her First Communion. This is a high-end designer dress that will last for years to come. It can be handed down to a younger sibling or cousin.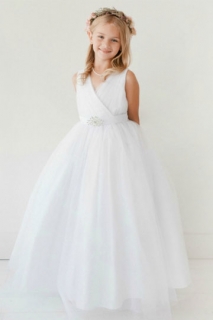 This full-length dress is an attention grabber with intricate pleating throughout the bodice that continues to throughout the long skirt. This First Communion dress has an angelic whimsical feel that will look fantastic in outdoor pictures. You can use floral accessories and simple jewelry that will enhance the natural look of this dress. The price is amazing for all the quality and workmanship that goes into this First Holy Communion dress. Your daughter will love this dress!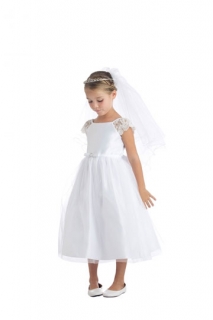 Understated glamour is what comes to mind when you see this beautiful satin cap sleeve lace dress. Classic and elegant this style will never go out of fashion. This is a perfect modest dress for First Holy Communion with a simple lace trim on the sleeve and delicate pearl brooch on the waist. You can dress up or down this dress by using accessories. Use a matching veil to take this dress up a notch during her First Communion.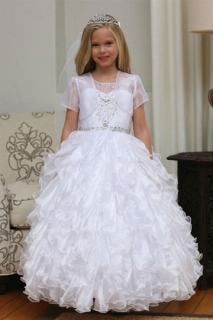 This fun dress is for that brave girl who loves attention! This gorgeous and playful dress has a skirt full of ruffles with a gorgeous beaded bodice. It's made from high-quality materials and it is fully lined with ruffle netting attached to the lining of the skirt. You can wear a petticoat for more fullness in the skirt. It also comes with a matching bolero. You can wear a floral headpiece or a sparkly tiara with this dress.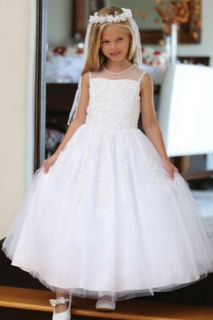 You really have to see this gorgeous First Communion dress in person to appreciate the fine detail that has gone into the lace appliques all over the bodice and the skirt. You don't need many accessories with this dress because the illusion neckline has beautiful beading around the neck. All you need is a floral headband and cute shoes! Your daughter will look like a princess in this high end, high-quality dress!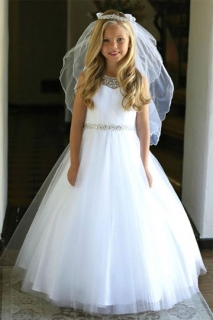 This gorgeous dress has intricate beadwork that truly resembles the elegant style of Grace Kelly and royalty! This is a timeless and elegant First Communion dress that will never go out of style. You get so much for your money with this dress. It has a pleated bodice, satin underlay, multi-layer tulle skirt and beaded waistline. There is a matching bolero included. This is a high-quality dress fully lined with ruffle netting attached to the lining of the skirt. Match it with a sparkling tiara and your photos will be perfect!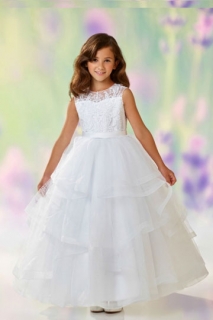 This dress is made from exceptional quality, and the detail is by one of the most celebrated designers in bridal couture Joan Calabrese. So much detail and workmanship go into this dress that makes this First Communion Joan Calabrese dress a show stopping, head turning top 2018 dress! The fabric is made of high-quality satin, tulle, and lace. It is a full-length A-line dress with front and back lace illusion necklines, all over re-embroidered lace appliques bodice with deep v and key-hole back, satin covered buttons, satin waistband, full gathered multi-tiered tulle overlay skirt with horsehair hem. You have to see this dress to appreciate all the details.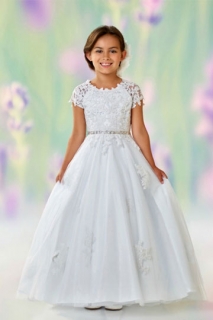 Last but not least our final favorite First Communion dress for 2018 is this gorgeous Joan Calabrese dress. This dress has so many jaw-dropping details that no expense was spared. The details continue all the way down the full gathered tulle overlay skirt with matching scattered lace appliques. This is truly similar to a high-end bridal gown. The intricate details include a sleeveless satin, tulle and lace applique scoop neckline, tulle with satin bodice with lace appliques, illusion cap sleeve and deep v back, and a beaded trim at waist.
Don't Forget Accessories!
The right accessories add a special touch and make the First Communion a lasting experience for many years to admire through photos.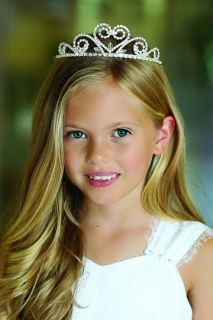 The veil is an important accessory that when worn with the Communion dress gives an angelic and spiritual feel to the entire First Communion outfit. Veils come in a variety of sizes. Some are attached to sparkling pearl or rhinestone tiaras or floral headpieces. Depending on the look you are going for, there are a variety of styles of veils and tiaras, and headpieces you can find online.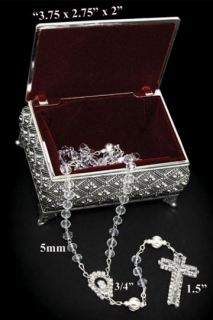 One of the most important gifts/accessories to give or hand down during the First Communion is the Rosary. The Rosary isn't merely a piece of jewelry. The Rosary is a sacramental object meant to help bring about spiritual effects through the prayer or devotion it inspires. That's why it's important to choose the right one that can be used for years to come. There are many beautiful ones to choose from. Depending on what kind of stones you like, we included a link to some of our favorite Rosaries that come on many types of stones including beads and crystals.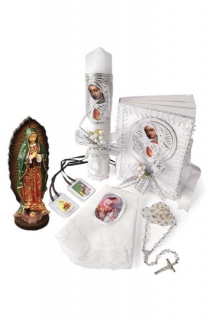 The lighting of the candles during the First Holy Communion is an important part of the ceremony. The Eucharistic candles include two, one on each side of the altar during the service of the First Holy Communion. They symbolize the two natures of Christ, divine, and human. You can purchase these candles online separately or you can buy a set that includes decorative candle, New Testament book, clear bead rosary, purse or armband, laminated scapular and 8-inch keepsake statue. Each of these sets comes in a gift box. Follow this link above to find the different candle selections.
In Conclusion, Let's Grasp the True Meaning of the Occasion
With all the preparation to get ready for the special day, it is easy to get lost in the hustle and completely neglect the most important thing of all—spiritually preparing your child for their special day. Spiritual preparation includes attending 2 years of religious education classes. However, it is important to remember not to rely entirely on your child's religious educators to teach them the importance of receiving the Eucharist. Read and pray with them and teach them the meaning and importance of the First Holy Communion. Remember you are the first educator in your children's faith. The parent plays the most influential part in preparing for this Sacrament because the reverence you model is the reverence they will learn to imitate. Basically, practice what you preach!